Our volunteers visit patients in
hospital rooms every day. They offer a listening ear, a warm meal,or sometimes, time more pleasantly. Often, the volunteer's visit is the highlight of the patient's day. She or he is the single friendly voice, the one who is there not to refill an IV bag or to monitor blood pressure or to supply medication, but just to say hello and chat.



For centuries, Jews have turned to Sefer Tehillim in times of need. No matter how distressing the situation, Tehillim has eased the pain and achieved miracles. A story is told in the sefer Chesed L'Avraham about an entire city that was kept safe for years because of a single man's recitation of Tehillim every day.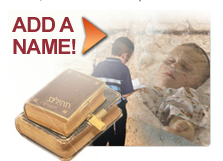 Yad Ephraim feels proud and grateful to be providing the myriad services that we do. But we know that none of it would be possible without the funds and support of so many.
As you can imagine, the expenses of an organization like ours are astronomical. Although we rely on volunteers to do much of the work, the food and general upkeep costs a great sum. To this end, we offer you the opportunity to sponsor individual days of Yad Ephraim's chesed.